Personal Training in Marbella
Being a personal trainer is not only about teaching people to work hard physically, there is also a lot of mental work that has to be done. Working out can be very intense and exhausting, you have to add some fun into it! I do my best to ensure that I help the client to keep on going even if things don't turn out exactly the way they wants it to.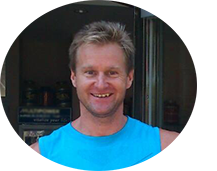 "Almost everyone reaches a point where they get tired of working out and most people just quit. As a personal trainer, my goal is to make people keep on going, and not allow them to quit. I never give up, and the clients are not allowed to give up in any way - and that is why they see the results."
Frank Naundrup - Personal trainer / former professional basketball player..
A lot of people who want to lose weight or gain muscle do not know where, how, or when to start. A personal trainer will help with all this, and also give you good advice about how to eat, how much to eat, when and what to eat, if that is what you want or need.
A personal trainer will also explain to you how your body works which can help you to avoid injuries. They will prepare your body for the hard work and build it up (preventative training) in order to avoid injuries in the future.
For a list of the most common personal training services offered in Marbella and around the Costa del Sol, please see:

Personal Trainer
Marbella
Personal Trainer Marbella
info@personaltrainermarbella.com
Ricardo Soriano, 8
Marbella
,
29601
Spain
+34667807257