Holiday Training Marbella
Are you here around Marbella for a week, two weeks, or maybe for a full month or even styaing for the winter on holiday? Then I am available to keep you fit or get you in shape while you're here. The past several years I have been all over Marbella and the Costa del Sol providing holiday training for all types of people with varying levels of fitness.
Maybe you already have a trainer in your home country and just want to stay in shape while you are on holiday or maybe you want to take advantage of the great weather here and do some outside training in Marbella. This could also be your opportunity to start your training. I can provide you with a programme to take home with you to continue exercising long after you have left Marbella.
Do you want to train in your garden, on the beach or a local gym? I also have the use of an outdoor training area and have all the equipment that you could need if you don't want to work out at one of the local gyms. Whatever suits you best, just contact me for you special Holiday training package.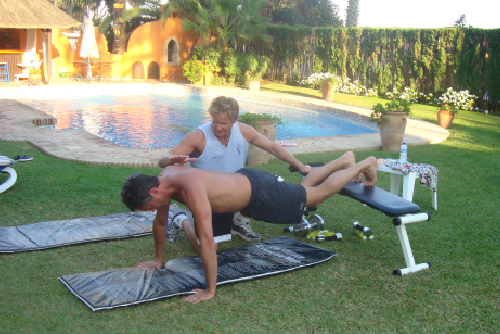 Personal Trainer
Marbella
Personal Trainer Marbella
info@personaltrainermarbella.com
Ricardo Soriano, 8
Marbella
,
29601
Spain
+34667807257