About Personal Trainer Marbella
Based in Marbella, in Andalucia on the south coast of Spain, Frank Naundrup offers his exclusive personal trainer services. When asked to describe himself and his services for this website, his response was as follows: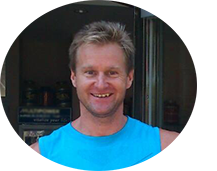 "When I was ten years old I decided to play basketball instead of football. I played basketball for nine years on different youth teams in Denmark, including the national team for under 18s. When I was nineteen I moved up to the senior league. At the time, the team I played for, "Randers" was in the third best league in Denmark. The next five years was a struggle and a lot of hard work to finally move up to the top league. That was when I found out how important fitness was being a top athlete. I was a skinny boy, and the only thing that kept me going was my speed and talent. I suddenly had to compete with grown men.
In the time from 1995-2000 I began my interest in fitness and body-building training , but I didn't really go to the gym. I decided to study fitness and personal training. In August 2000 I got my first professional contract in Marbella, playing basketball. For almost two years I played against professional athletes who knew the game very well. To be able to compete against them, I needed more muscles, speed and athleticism. I started going to the gym very often and I gained 8 kilos of muscles. after almost two years in Spain I returned to Denmark in 2002 to "Randers", where I played as a professional then till the summer of 2007.
During that time I took classes in Fitness and most of my clients were from FitnessDK, www.fitnessdk.dk, which is the largest fitness chain in Denmark, and that's also where I took my degrees. For two years I worked for a fitness center, Team Hyldahl, as a personal trainer before becoming self employed with my own business. On top of all of this, I was the physical trainer for our basketball team Randers and I was responsible for the warm ups for 1.5 years before moving to Spain. During the summer I have also had different jobs as a personal trainer in factories training the workers and motivating the staff both in Denmark and Spain.
When I train people, I don't stand and look at them, telling them what to do. I'm down on all fours doing the exercise with them. I push them to their limit, but I push myself with them.  To me, your goals and expectations are my responsibility.

Personal Trainer
Marbella
Personal Trainer Marbella
info@personaltrainermarbella.com
Ricardo Soriano, 8
Marbella
,
29601
Spain
+34667807257